Trange koronararterier?
Hjertet er en kraftig muskel som pumper blodet rundt i kroppen. For å klare pumpejobben trenger hjertet hele tiden tilførsel av oksygen (surstoff) og andre næringsstoffer. Denne tilførselen kommer fra blodet via blodårer som ligger utenpå hjertet, koronararteriene (kransårene). Det er tre større koronararterier. De forsyner ulike områder av hjertet med blod. Hver koronararterie deler seg opp i stadig mindre årer slik at hele hjertemuskelen får god tilførsel av oksygen og næring.
Angina pectoris
Etter som vi blir eldre, vil blodårene våre bli trangere på grunn av avleiring av fettstoffer på innsiden av åreveggen, noe som betegnes aterosklerose eller åreforkalkning. Det skjer også i koronararteriene. En trang arterie kan medfører oksygenmangel i det vevet som arterien forsyner. Når hjertets pumpefrekvens øker, det vil si ved økende puls, trenger hjertets muskulatur økt blodtilstrømning for å tilfredsstille behovet for oksygen. Når det har utviklet seg forsnevringer i koronararteriene, kan blodårene etter hvert bli så trange at de ikke klarer å levere de nødvendige mengdene med blod. Da oppstår det oksygenmangel i hjertemuskulaturen, noe som fører til brystsmerter. Denne brystsmerten, som er utløst av oksygenmangel, kalles angina pectoris. Det er typisk at denne smerten melder seg ved pulsøkning, oftest som følge av økt fysisk aktivitet, men også stress kan øke pulsen og derved utløse anginaanfall.
Ved total blokkering av koronararterien mister en del av hjertemuskelen blodforsyningen, noe som fører til at denne delen av muskelvevet dør. Dette kalles hjerteinfarkt. Det døde muskelvevet erstattes av bindevev som ikke har noen muskelsammentrekkende kraft, og resultatet blir et svekket hjerte.
Bypassoperasjon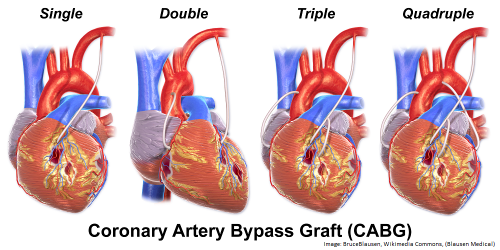 Ved angina pectoris eller akutt hjerteinfarkt blir det som regel utført koronar angiografi, dvs. man gjør en røntgenkontrast-undersøkelse av koronararteriene (se nedenfor). Ved påvisning av trange partier eller total blokk i én eller flere av koronararteriene vil man i samme seanse forsøke å gjøre perkutan koronar intervensjon (PCI). Ved PCI føres et tynt plastrør (kateter) inn i det trange partiet, og man utvider åren ved hjelp av et ballongkateter (se figur). Noen ganger lar ikke dette seg gjøre. Det kan være av tekniske årsaker eller fordi det foreligger flere trange partier i åren. Da er det aktuelt å gjøre by-pass operasjon. Det er et inngrep hvor man åpner brystkassen og syr inn en eller flere årer, som tas fra et annet sted på kroppen, slik at blodet kan ledes forbi de trange partiene.
Operasjonen
En bypassoperasjon er et stort inngrep som foregår i narkose og tilkoplet såkalt hjerte-lungemaskin. Brystbenet deles i to slik at brystben og ribben kan brettes til side for å komme til hjertet. Under inngrepet er det vanlig at to kirurger samarbeider. En spalter brystkassen og gjør klar for selve bypass-inngrepet, mens den andre opererer ut en blodåre fra leggen og gjør denne klar for å brukes på hjertet. Deretter samarbeider kirurgene om å sy de nye blodårene inn i hovedpulsåren (aorta) og inn i kransåren utenfor det trange partiet. I mange tilfeller er det nødvendig med 3-4 slike nye årer. Under den delen av operasjonen hvor de nye blodårene sys på plass, stanses hjertet, og det er hjerte-lungemaskinen som sikrer blodomløpet til pasienten.
Etter operasjonen
Det er vanlig med cirka én ukes opphold på sykehus etter operasjonen. Etter utskrivelsen anbefales opptrening i såkalt hjertetreningsgruppe. Det tar som regel noen måneder før du er tilbake i god, gammel form. På grunn av spaltingen av brystbenet må man blant annet ikke belaste armene de første seks til åtte uker etter inngrepet.
For å hindre at de nye blodårene blir trange på ny, vil du måtte bruke blodtynnende medisin (acetylsalicylsyre) resten av livet. De fleste anbefales også såkalt betablokker det første året etter inngrepet, og nesten alle behandles med kolesterolsenkende medisiner for å forebygge tilbakefall. Og ikke minst, røykeslutt, sunt kosthold og mosjon er av største betydning for å sikre et godt utfall på lang sikt.
Vil du vite mer?
Hjerteinfarkt, animasjon
Blokking av tett blodåre, angioplastikk, animasjon
Fjerning av plakk, atherektomi, animasjon
Bypasskirurgi, animasjon