Kirurgiske alternativer
Kirurgi mot overvekt startet tidlig på 50-tallet, og ulike operasjonsmetoder har vært anvendt siden den tid. Dagens metoder faller i to kategorier:
Inngrep som gjør magesekken mindre og leder maten forbi de øvre delene av tynntarmen slik at opptaket av føde i tarmen begrenses (gastrisk bypass). Dette er inngrep som gir vekttap ved å medføre tidlig metthetsfølelse og ved å begrense mengden næringsstoffer og kalorier som kan tas opp i tarmen (malabsorpsjon). Slike inngrep medfører økt risiko for feilernæring.
Inngrep som gjør magesekken mindre. Disse metodene gir vekttap ved å redusere størrelsen på magesekken, slik at du må begrense mengden mat du spiser. "Gastrisk sleeve" er den vanligste av disse metodene. Gastrisk banding er et alternativ.
Gastrisk bypass
Internasjonalt har dette vært den mest benyttede metoden, og den som gir best vektreduksjon. Operasjonsmetoden gir gjennomsnittlig 30 prosent vektreduksjon etter 1-2 år.
Ved gastrisk bypass (Roux-en-Y gastrisk bypass) lager kirurgen en liten lomme på toppen av magesekken og kobler denne sammen med tynntarmen din. Kirurgen syr sammen øvre del av magesekken og skiller den fra resten av magesekken. På denne måten blir "den nye magesekken" langt mindre og vil kunne romme betydelig mindre mat enn før. Maten som før passerte gjennom magesekken og tolvfingertarmen, passerer nå forbi ("bypass") denne delen av fordøyelseskanalen. Maten tømmes i jejunum, øvre del av tynntarmen, noe som begrenser opptaket av kalorier. Selv om maten ikke kommer ned i nedre del av magesekken, beholdes også denne delen, og den fortsetter å produsere magesafter som blander seg med maten i tynntarmen din.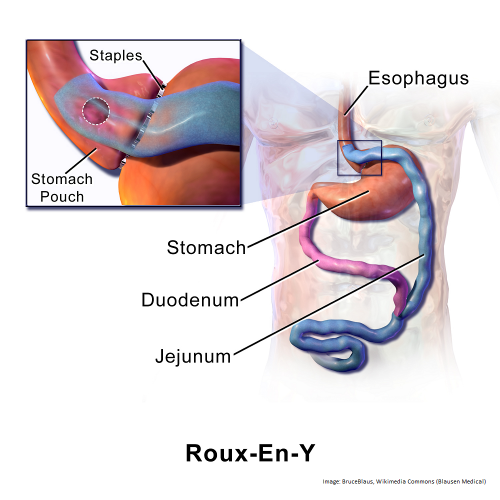 Inngrepet kan utføres via laparoskopi (kikkhullskirurgi). Bruk av slik teknikk forkorter oppholdet på sykehuset og gjør at man raskere kommer til hektene igjen etter inngrepet, sammenlignet med "åpen" kirurgi. Det synes også å bli færre problemer med operasjonssåret.
Ulempen med metoden er at det er en stor operasjon med risiko for alvorlige komplikasjoner. Det gjøres betydelige og til dels uopprettelige endringer av anatomiske forhold i magesekken, og operasjonen medfører redusert opptak av mat i tarmen (malabsorpsjon) etter inngrepet. Det er mangelfulle data på langtidseffekt, og det mangler sammenliknende forsøk med andre inngrep.
Gastrisk sleeve
Internasjonalt er nå gastric sleeve den mest benyttede metoden. Ved en gastrisk sleeveoperasjon fjernes 85 prosent av magesekken vanligvis ved hjelp av kikkhullskirurgi slik at den resterende magesekken får form som et rør eller et erme – derav navnet "sleeve". Delen av magen som fjernes, tas ut av bukhulen. Den tynne, ermeformede magen som er igjen, stiftes sammen med avanserte kirurgiske instrumenter.
Gastrisk sleeve kirurgi er i ferd med å bli den mest populære metoden til å minske magesekken fordi den som regel er vellykket, og det er få komplikasjoner. Operasjonen er enklere enn gastrisk bypass. De som har gjennomgått denne operasjonen, taper 40 til 50 prosent av sin overvekt.
Gastrisk banding
Inngrepet er ikke lenger aktuelt i Norge. Gastrisk banding fører generelt til mindre vekttap enn by-pass operasjoner, men også færre komplikasjoner.
Gastrisk banding er den eneste fedmeoperasjonen som ikke endrer kroppens anatomi og som er den minst inngripende (invasive). Ved denne operasjonen plasseres et uelastisk bånd rundt magesekken som snører sammen magesekken til to deler. Magesekken blir delt i en øvre og nedre del. Den øvre lommen er liten og tømmer seg i den nedre lommen, som er resten av magesekken din. Åpningen mellom de to lommene er på størrelse med et kronestykke. Båndet kan justeres, og det kan også fjernes.
Gastrisk banding gir mindre plass til mat og tvinger deg til å spise mindre. Dette bidrar til at du føler deg mett raskere og lengre enn vanlig. Gastrisk banding fører til tap av 35 til 45 prosent av overvekten din, men disse resultatene varierer.
Inngrepet gjøres vanligvis ved laparoskopisk teknikk (kikkehullskirurgi). Mange kirurger har sluttet å gjøre denne operasjonen og heller gjøre gastrisk sleeve.
Ulemper med inngrepet er at det kan medføre bivirkninger som kvalme, brekninger, halsbrann, magesmerter og at båndet kan forskyve seg.
Malabsorpsjonstiltak
Ulike inngrep er mulige. Men siden inngrepene medfører en risiko for livslangt mangelfullt opptak av næring og vitaminer i tarmen, utføres slike inngrep sjelden i dag.